Griftlands Wiki
the Griftlands guide by the players for the players.
We are currently maintaining 3,864 pages (296 articles).
Please feel free to contribute by creating new articles or expanding existing ones.
About Griftlands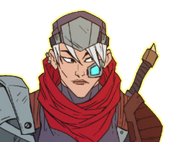 Griftlands is a single-player deck building game created by Klei, where everything is negotiable: money, loyalty, and even morality. Choose your character and make your fortune in the Griftlands.
Genre: Roguelike, Deck Building
Developer: Klei Entertainment
Publisher: Klei Entertainment
Release Date: Q4 2020, currently in Early Access
Links